2020 Weekly Tweeterboard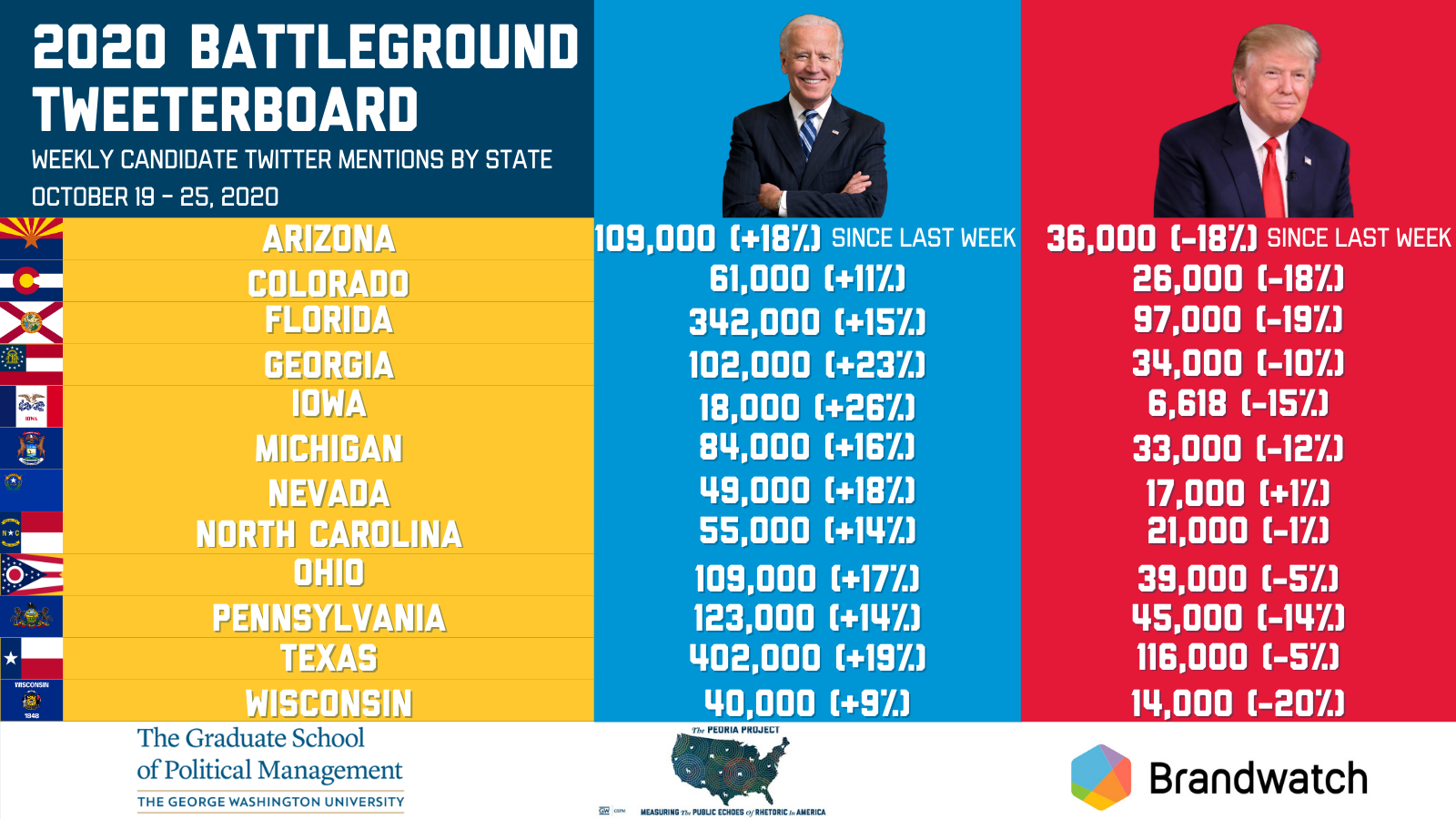 Every week, the PEORIA Project digs through Twitter to determine which candidates are on the minds (and tweets) of Americans heading into the 2020 presidential election. The Board displays the eight most mentioned candidates on Twitter during the week listed. For comparison's sake, the Real Clear Politics poll average for the Democrats appears in the first column to the right of the candidates' names. A few candidates with higher poll averages may not be on the Board because they did not have enough Twitter mentions to break into the top eight.
Moving rightward from the poll average, the next column indicates the week-to-week trend for candidate mentions. After that, we display the Twitter handle of the most mentioned and liked commenter on a candidate, along with the combined number of retweets and likes that commenter garnered. (Now and then, the top commenter turns out to be the candidate.)
We also report the tone of that most popular comment and the tone of the comment at the top of the commenter's thread. Our PEORIA team decides whether the tone is positive or negative; we do not use sentiment analysis.
Along with the TweeterBoard we present screenshots of the top posts and comments, uncensored and unaltered.
The TweeterBoard exists in partial fulfillment of the PEORIA Project mission to study political conversations.  The TweeterBoard is funded through a generous donation from GSPM alumnus William Madway.
Note: Beginning in March 2020, the PEORIA Project team also attempted to measure the impact of the coronavirus pandemic on the Twitter political discourse. The project broadened its criteria to include Twitter posts and mentions about state governors and nonpartisan health officials. 
2020 Election Tweeterboard Reports
October 19 - October 25 Tweeterboard Report
October 12 - October 18 Tweeterboard Report
October 5 - October 11 Tweeterboard Report
September 28 - October 4 Tweeterboard Report
September 21 - September 27 Tweeterboard Report
September 14 - September 20 Tweeterboard Report
Coronavirus Tweeterboard Reports
May 11 - May 17 Coronavirus Tweeterboard Report
May 4 - May 10 Coronavirus Tweeterboard Report
April 27 - May 3 Coronavirus Tweeterboard Report
April 20 - April 26 Coronavirus Tweeterboard Report
April 13 - April 19 Coronavirus Tweeterboard Report
April 6 - April 12 Coronavirus Tweeterboard Report
March 30 - April 5 Coronavirus Tweeterboard Report
March 23 - March 29 Coronavirus Tweeterboard Report 
Coronavirus Tweeterboard Report #1