Empowering the Party Crasher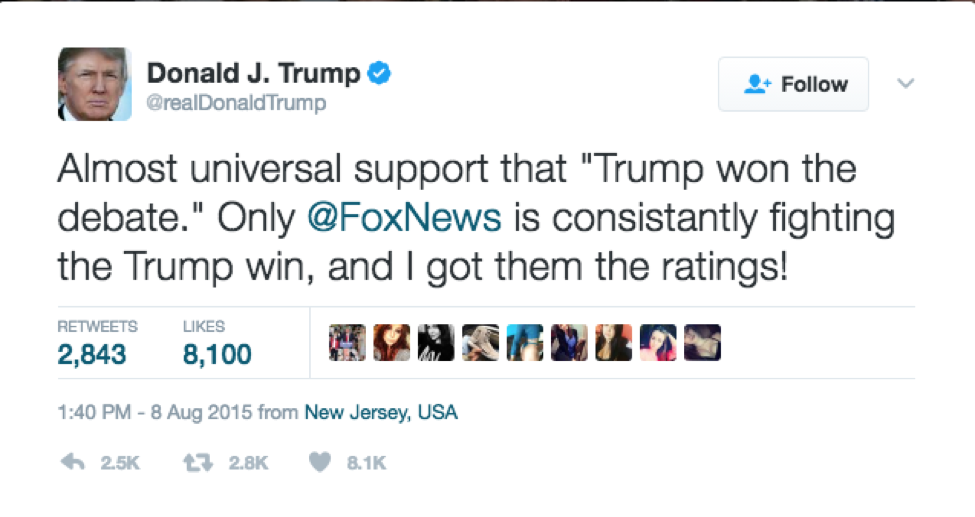 Michael Cornfield, "Empowering the Party-Crasher: Donald J. Trump, the First 2016 GOP Presidential Debate, and the Twitter Marketplace for Political Campaigns," Journal of Political Marketing 16:3-4, pages 212-243.
Free e-prints available by contacting the author at [email protected].
The book edition, Social Media, Political Marketing and the 2016 U.S. Election, will be published by Routledge on May 8, 2018. ISBN: 978-1-138-47706-3
-----
SUMMARY: How Twitter Use Helped Trump In the First GOP Debate
In this peer-reviewed article based on PEORIA Project research, Michael Cornfield presents an innovative method to obtain political intelligence from social media keywords and posts. The article documents and explains how Donald Trump bested his Republican rivals in the first pre-primary debate on August 6, 2015 in spite of harsh and massively negative assessments of his performance by party insiders.
There is no official scoring system to determine presidential debate winners and losers. Table 1 contrasts three metrics:
Poll standing before and after the debate.
Opinions of party insiders, as surveyed immediately afterward by Ballotpedia.
Twitter share of voice before and after, that is, who was talked about most by people who cared enough about having their debate opinions seen that they included the hashtag #gopdebate in their posts.
The insiders rated Trump the big loser, but Trump was the big winner according to the polls and these hashtag-using tweeters, whom Cornfield dubs the "expressive attentives."
---

Data obtained from Crimson Hexagon and compiled by Dr. Michael D. Cohen.
---
This data runs contrary to what a prevalent theory in political science literature has held: that party insiders have the big say in winnowing out presidential aspirants during the long "invisible primary" period preceding the first votes in the Iowa Caucuses and New Hampshire Primary. But the theory was formulated and substantiated before Twitter (and Facebook and other social media platforms) enlarged the number and range of people who could publicly judge debate performances.
The following method was devised and deployed to locate evidence of how Trump took advantage of this widened field of judges. First, a Twitter "marketplace of influence" around the event was defined as a set of posts containing the well-trafficked and neutrally phrased hashtag #gopdebate within a specific date range. Second, a list of likely significant keywords was compiled by examining the debate transcript and video in the light of historical context. Third, the volume for each of these keywords was tabulated (see the table below). Fourth, random samples of the posts were read with an eye to candidate rhetoric and expressive attentive response.
---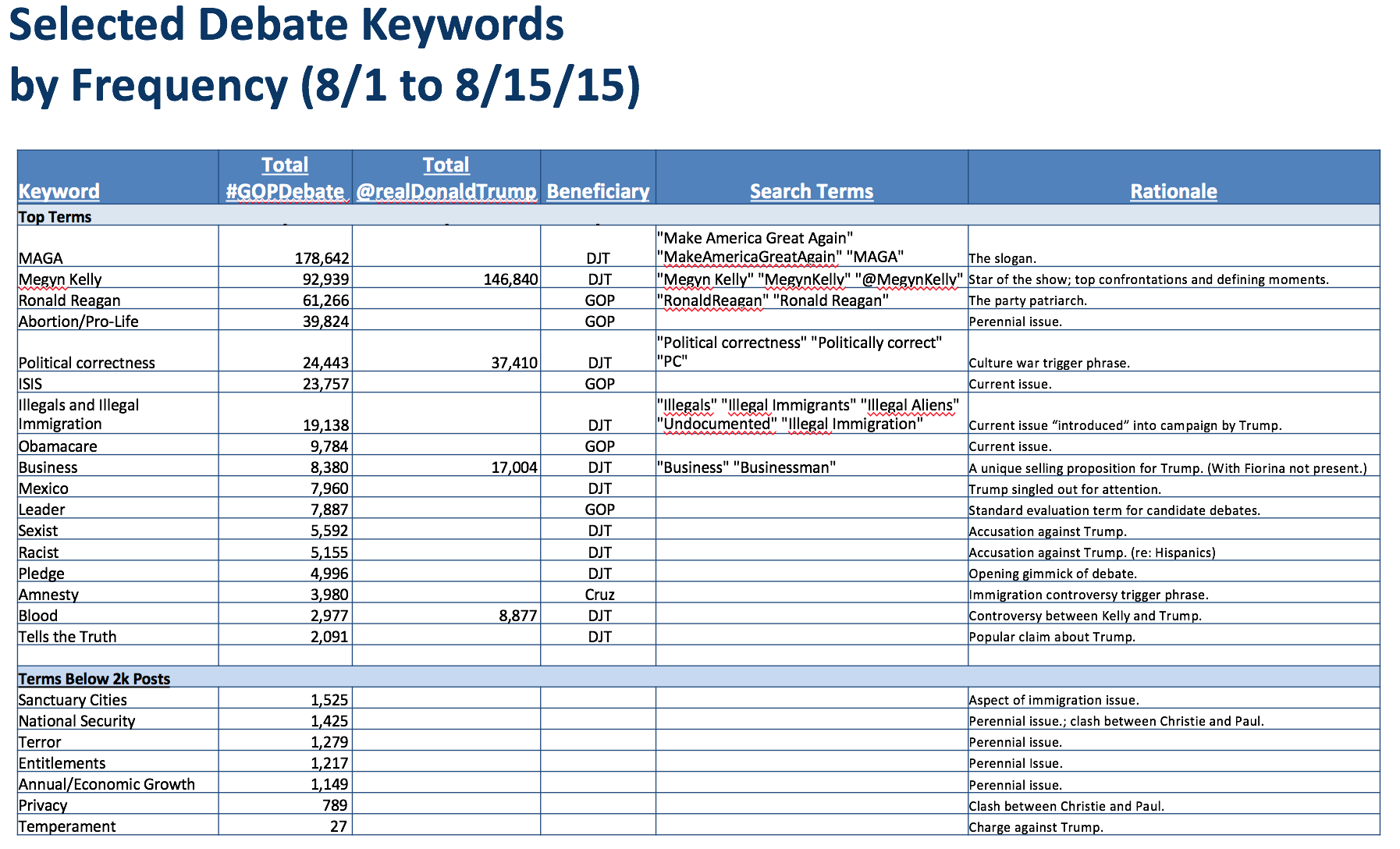 Data obtained from Crimson Hexagon and compiled by Dr. Michael D. Cohen.
---
The results show that:
Trump was the only candidate that night to utter the resonant phrase "political correctness." It echoed strongly (fifth highest frequency in the table) among tweeters paying attention to the debate.
Trump and his online team protracted his confrontational exchanges with debate moderator Megyn Kelly (second highest) into the next day, turning it into an attention-grabbing celebrity feud.
Trump spoke in conversational, aggressive, hashtag-ready terms, in contrast to the multipoint policy modules uttered by his opponents. None of the terms examined came close in frequency to his slogan "Make America Great Again."
Trump and his online team worked in concert with sympathetic media outlets (Breitbart, Drudge, Fox) before and after the event. This is evident in the high frequency of posts from and mentioning these outlets.
Trump supporters posted information to elaborate and defend Trump assertions against detractors. The paper provides examples.
The granular nature of social media monitoring data allows us to see, via a systematic and replicable extraction method, Trump's dominant share of voice among the candidates, the comparatively heavy use of keywords related to his brand, and active support for him among those tweeting in reaction to the debate and the enveloping spin. On Twitter, as elsewhere, Trump was a celebrity among politicians, an outside agitator among colleagues, and a candidate with enormous free media presence and considerable free media backing. Users of Twitter, including the candidate himself, empowered the party crasher.